BoatsBazar and Charters.com Boats and Charters

-

is a listing and Boats and Charters directory, where professional merchants but also private sellers connect with buyers from around the world. If you are a seller, you can add listings in few seconds, and if you are a buyer you can search listings to find your dream object!

CRANCHI 34 ZAFFIRO (USATA ANNO 1997)

(Ref: OBJ12_218)
IMBARCAZIONE IN OTTIMO STATO. PREZZO MOLTO INTERESSANTE.



Main Features :
Object Type :
Object subtype :
Country :
Italy
City :
ROSIGNANO SOLVAY
Zip Code :
57016
Region :
Toscana
Address :
VIA AURELIA 555
For Sale :
For Sale
Year Made :
Listing Data :
01/October/2010 00:15:51
Listing Clicks :
877




Sale/Rent Pricing Options
This object is
For Sale
Sell Price:
89000,00 Euro


Click here to browse all listings of this user.
Recommend this object to a friend.
Print this object.
Description :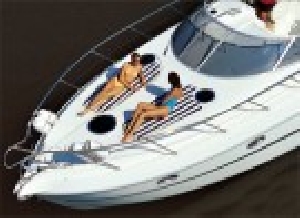 Dimensioni: Lunghezza (metri): 11,21; Larghezza (metri): 3,55; Dislocamento (tonnellate): 6250; Pescaggio (metri): 0,87
Interni: Posti: 6; Cabine: 2; Bagni: 1; Dinette
Descrizione: PIANO COPERTA

- SALONE DINETTE CON DIVANO E TAVOLO
- CUCINA ATTREZZATA
- STAZIONE GUIDA ESTERNA LATO DX

PIANO INFERIORE E ZONA NOTTE:

- CABINA ARMATORE MATRIMONIALE PRUA
- CABINA OSPITI MATRIMONIALE A POPPA
- 1 BAGNO IN LOCALE SEPARATO CON DOCCIA


DISPOSIZIONE ESTERNI:

DA PRUA A POPPA

- AMPIO PRENDISOLE A PRUA CON CUSCINO
- POZZETTO COMPLETO DI CUSCINERIE PRENDISOLE, DIVANETTI E TAVOLO.
- AMPI GAVONI
- ZONA PRANZO E RELAX

Motore: Numero di motori: 2; Marca: Volvo Penta; Potenza per motore (H.P.): 231; Tipo motore: Diesel
Ore di moto: 420
Serbatoio (litri): 570
Descrizione motore: Entrofuoribordo.

Servizi: Batterie: 4; Tensione: 12/220; Carica batterie; Cucina; Forno; Frigo

Descrizione servizi: - VERRICELLO ELETTRICO
- CUSCINI PRENDISOLE PRUA
- FLAPS ELETTRICI
- DOCCIA ESTERNA
- PASSERELLA ELETTROIDRAULICA
- SCALETTA RISALITA BAGNO
- PARABORDI
- PRESA 220V
- CARICABATTERIA
- POMPE DI SENTINA ELETTRICHE E MANUALI
- AUTOCLAVE
- BOILER ACQUA CALDA
- FRIGORIFERO
- CUCINA ATTREZZATA
- FORNO
- WC MANUALE

Acqua: Serbatoio (litri): 190; Boiler; Autoclave; Doccia interna; Doccia esterna

Accessori: VHF; GPS; ECO; Pilota automatico; Salpa ancore elettrico

Descrizione accessori: - ANTENNA VHF
- APPARATO VHF
- GPS
- ECOSCANDAGLIO
- BUSSOLA
- AUTOPILOTA
- ANGOLO DI BARRA


Contact Details
Object Owner Contact Form

| | |
| --- | --- |
| Contact: | FRANCESCO |
| Telephone(home): | |
| Telephone(office): | 0586372420 |
| Telephone(mobile): | 3389069171 |
| Fax: | 0586372420 |
| Website: | URL |



[ ROME -
25/May/2022 00:01:23
] We have
331
objects listed. Yesterday traffic on boatsbazar and charters Boats and Charters was: unique visitors with page views.
| | | |
| --- | --- | --- |
| We accept, payments through bank wire, western union and credit cards with PayPal or Bankpass: | | |
Giovanni Ceglia's sites
:
E-Merchants Services
-
Programmer's Community
-
Merchant's Community
-
Videogame Developer's Community
-
Videogames & Programming
Programming Articles
-
Graphic Services
-
Job Search Services
-
Hotel & Accommodation Directory
-
Hosting Services
-
Identity Verification Services
Cheap Hosting & Domain Registration
-
Business And Commercial Properties
-
The Complete Giovanni Ceglia's Network
-
Hardware and Software
-
Malmignatta Search Engine
BoatsBazar and Charters.com is a worldwide and international Boats and Charters and listings directory, with thousands of Boats and Charters listings, divided into countries and regions. All material, the structure, and the layout on this site are © Copyright of boatsbazar and charters.com by C. Giovanni located in Trento N. 74 Pal. I Street in Pagani(Salerno) - Italy. Italian Business Code: Partita IVA N. IT03972320653, registered in the "Camera di Commercio" of Salerno.

BoatsBazar and Charters.com is one the C. Giovanni projects, started on 20 July 2005, and online since 20 August as a Boats and Charters platform for listings, mainly operating on the Italian and American/English market in the Internet, boatsbazar and charters would like to become the point of referiment for home sellers and home buyers, a site where private owners or professional merchants can have the possibility to show their offers to the world. boatsbazar and charters.com is only one of the Giovanni Ceglia's sites. Everyday Giovanni Ceglia works to improve new Internet tools and services for online marketing and business. boatsbazar and charters.com will become the biggest portal for Boats and Charters business and investments online.